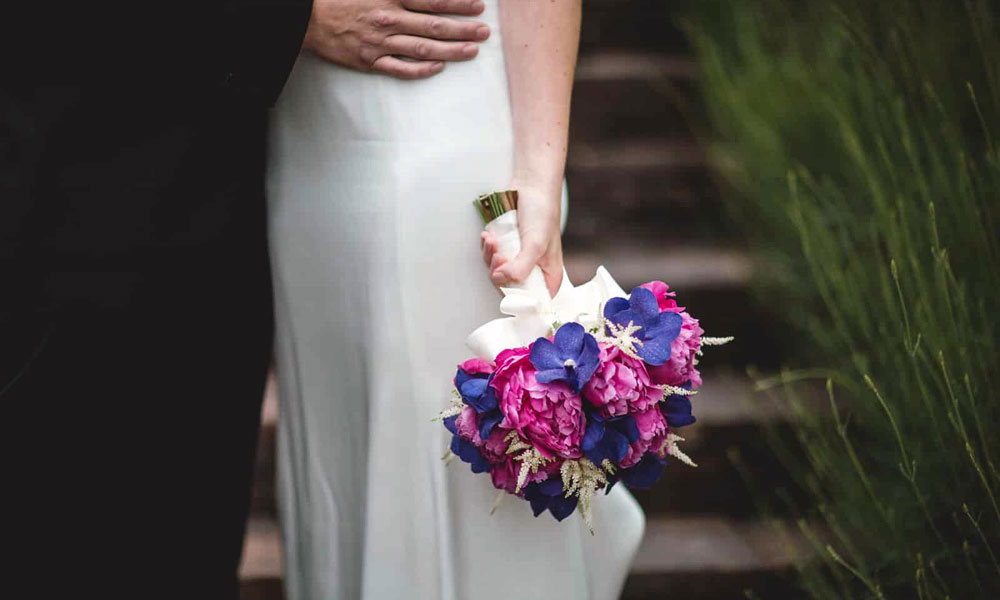 David was delighted to be involved in the amazing day of Grace and Matt who were recently married in the beautiful setting of The Horn of Plenty in Devon . Grace and Matt did quite a bit of research into venues around Devon and Cornwall and visited several spots. Their criteria was pretty simple they wanted somewhere that was known for its food, was small enough to feel intimate but big enough to cater for about 80 people.
They booked to stay at the Horn of Plenty before committing to it as their venue. At that point the owner, Julie, spent valuable time with Grace and Matt chatting through their options and also got to experience the food, which was delicious. After their visit, it was an extremely easy decision to book it for their big day.
"We wanted our day to be really relaxed, but also to have flexibility to add our own touches, at every stage through our planning with the venue, they were there to help with anything extra we needed. Everything was taken care of."
Before getting lost in the depths of wedding planning Grace and Matt looked to family and friends for recommendations and insights. It was at this stage David became involved, as a close family friend, they knew and loved his floristry and wedding planning service. Grace's mum has been making wedding cakes for over 25 years, and although both were based in Northern Ireland, they were delighted to get involved with Grace and Matt's Devon wedding.
In her friendship group, there were also many other talented people she was able to lean on – her work colleague's wife was starting up her own hair and makeup business, Hair and makeup by Rebecca Jordan and after the first trial, Grace knew she was a great fit. Grace even got her brother (a hairdresser) to run a blow dry bar for any of the ladies who wanted it on the day of the wedding.
A friend of the couple, who used to be a wedding planner in Devon, was able to put Grace in touch with their photographer, magician and Stan Toohey the caricaturist.
"She was spot on with matching Thomas Frost Photography with what we were after, we loved Thomas's style and personality. We couldn't have been happier. It's worth chatting to anyone who has experience of events, and you never know, one of your friends, or a friend-of-a-friend, could have a secret skill that would be perfect to incorporate on your day."
The dress was perhaps the trickiest part for Grace, whose work and day-to-day dress is usually casual, "I look a bit 'out-of-sorts' dressed up, and my family isn't based nearby so I was lacking any first hand motherly and sisterly advice."
Grace started the search in Exeter with a close friend, and although this wasn't successful they had such a lovely day out and it did make it clear to her what she didn't want!
"Jenny Packham had been recommended to me by a few friends who thought the style would suit me, and as I work quite a bit in London, I took the chance to squeeze in a quick initial appointment in their flagship store in Carlos Place. I spent an hour in the bridal boutique down the stairs in the store and felt amazing after the appointment.
I was able to try on about 15 dresses, and just knew my one was in there somewhere! As I was on my own, I wanted to come back quickly with my Mum (who was visiting in a few weeks), and they were able to fit us in no problem. I was so happy with the dress, it mixed together sleek and simple with such intricate beading detail on the top."
Back