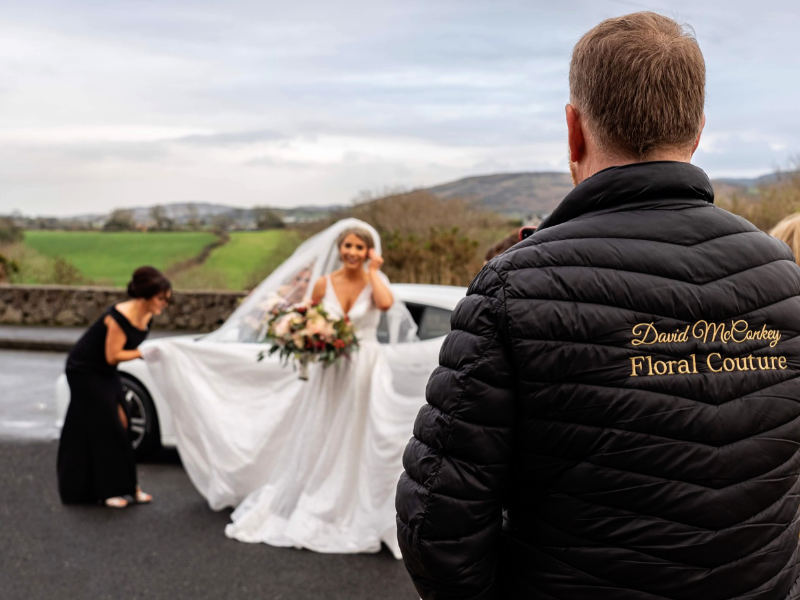 Despite restrictions lifting for weddings here in Northern Ireland from the 24th May, we're not quite back to 'normal' - guest numbers will be agreed on an individual basis after a risk assessment by the venue, so for many this may still be limited. But if Covid-19 has taught us anything, it's that we can adapt and embrace the challenges.
If your numbers are reduced you have a few options - go ahead with your nearest and dearest and enjoy the lower cost (and stress) savings - or embrace a maxi-micro wedding.
What does that mean? Embrace your special day and go all out with the features you can control. Maximise your small wedding. The guest list might be small but the grandeur can be maximum. Just because your wedding is smaller than anticipated doesn't mean it has to be less memorable, after all it's still about you marrying your partner.
How to Maximise Your Wedding Day
1. Exquisite Flowers
With fewer tables you can maximise flowers everywhere! Think arches, banisters, the aisle, outside your venue - flowers blooming everywhere.
Bridal party bouquets are the perfect opportunity to go big, not too big to cover the wedding dress, but really add the wow factor with your flowers.
2. A Unique Venue
Just because you have smaller numbers doesn't mean you can't have that dream venue. If you want to be married in a castle - go for it. Your photos will be beautiful and everyone will enjoy escaping to a fantastic location for the day.
3. A Luxury Menu
With smaller numbers for your reception, you can really focus on the food. There can be more of it! Whether you go for a wedding breakfast, afternoon tea, or dinner, you don't have to sacrifice quality and instead you can up the luxury.
4. The Dream Dress/Suit
With extra budget you can go extra on the wedding dress or suit of your dreams, always wanted a designer number but couldn't justify it? Now is your chance! Maximise your pampering beforehand and really enjoy the build up.
5. Unforgettable Entertainment
With fewer numbers to entertain, you can really go for it with your entertainment. Book that dream live band, or go for smaller entertainment throughout the day and create your own mini festival!
Whatever you decide to do, your wedding day will still be wonderful no matter the numbers. I'm on hand to help my couples with my wedding floristry and wedding planner services - together we'll create a day to remember.
Blog provided by Melissa from Lost in the Words.
Back