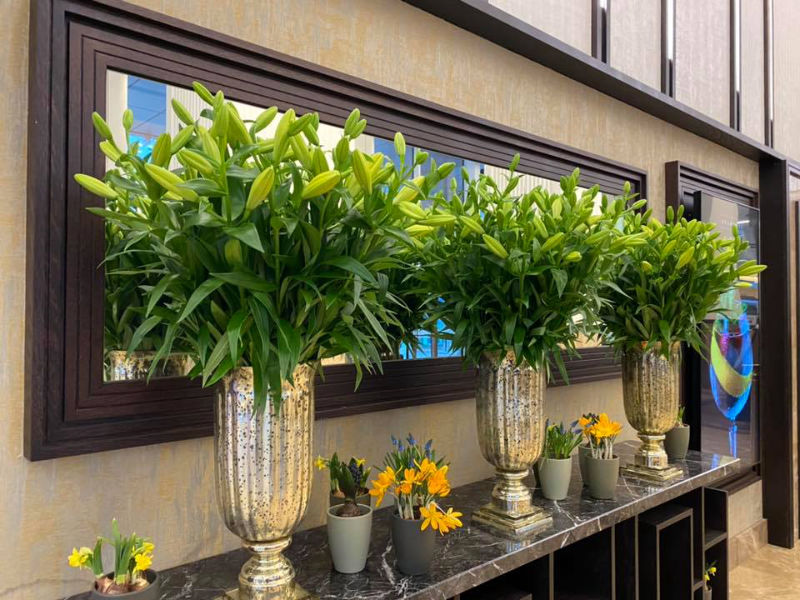 It seems like forever since we had some straight up sunshine, but at last the mornings are getting brighter and the days longer. Spring is definitely on it's way, and that means for those who are newly engaged it's time to get properly into the planning stages of your wedding day.
It has been a busy time for David and the team (as always) with winter weddings and weekly trips to The Grand Central Hotel with fresh blooms (you'll see some of recent photos below!).
Looking ahead into Spring 2020 it's a time of rebirth and rejuvenation and that means flowers bursting forth and buds beginning to reach for the sky. With it come some essential wedding flower trends, to help you in your wedding planning here are some of our favourite, some are timeless and some are inventive!
Sustainable Wedding Flowers
Sustainability is an important part of life as we know it, in many areas of our lives we are trying to find ways to have less impact on our planet, wedding flowers are no different. Spring 2020 trends will include creative ways to be less wasteful with wedding flowers. Succulents, cacti and potted plants are becoming ever more popular and can be used as favours so guests can bring home part of your wedding whilst improving air quality in your home!
Sourcing local seasonal flowers or using wildflowers are also becoming more popular and help to reduce the impact of travel to obtain out of season blooms. Dried flowers have become increasingly popular and are a feature of 'boho' weddings. They add a beautiful faded colour palette that can be paired beautifully with copper, gold, silver, marble etc.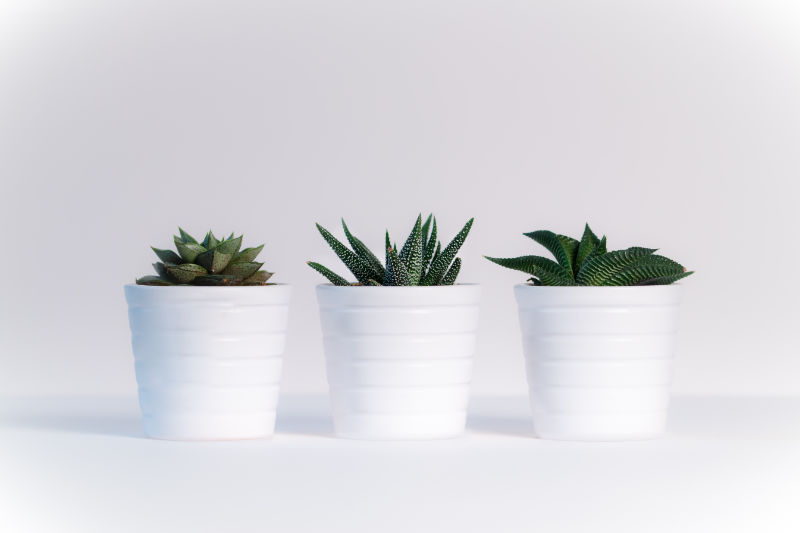 Rustic Flowers & Neutral Tones
We've talked about this trend before and it is here to stay, these wedding bouquets are bursting with greenery and are natural and free flowing. These more naturally styled flowers also make for beautiful centrepieces, they can be finished with touches of wood or for a more sophisticated look - marble.
With this more rustic flower feel neutral tones are the perfect accompaniment so we may see bolder colours take a back seat this Spring in favour of subtle tonal differences and lots of white and green.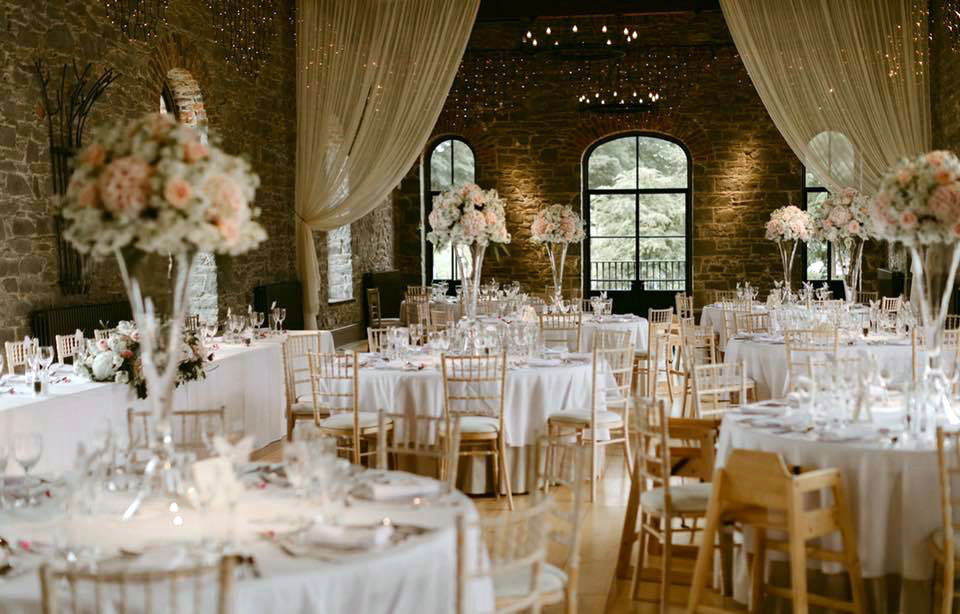 Pantone Colour of the Year 2020 - Classic Blue
There is another less muted colour that will be making a scene not just in Spring but throughout the year and that is the pantone colour of the year - Classic Blue. This regal colour will be beautiful alongside vibrant greens and gold finishes. We can't wait to work with it and develop some beautiful bouquets.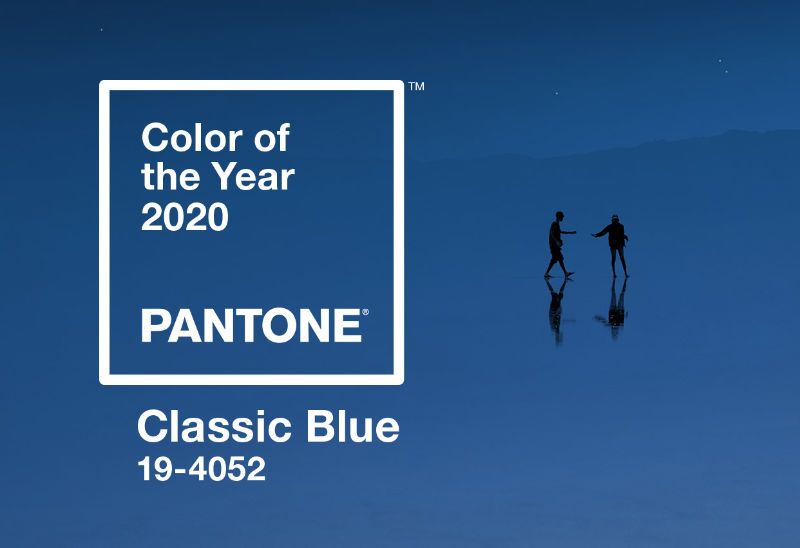 Wedding Flower Centrepieces
Again not a new concept, flower centrepieces are a staple of any wedding day, but this Spring we will see them become much more flowing and simple to allow for a natural flow.
Say hello to high floral pieces suspended above your guests and more flower features away from the table. Think floral moon gates, one of our favourite trends that became popular in 2019, they are another version of a traditional wedding arch and can be full crescents or half moons, use roses, peonies or palms and grasses to create a magical moon gate. Even better, they can be reused as a photo backdrop or the top table.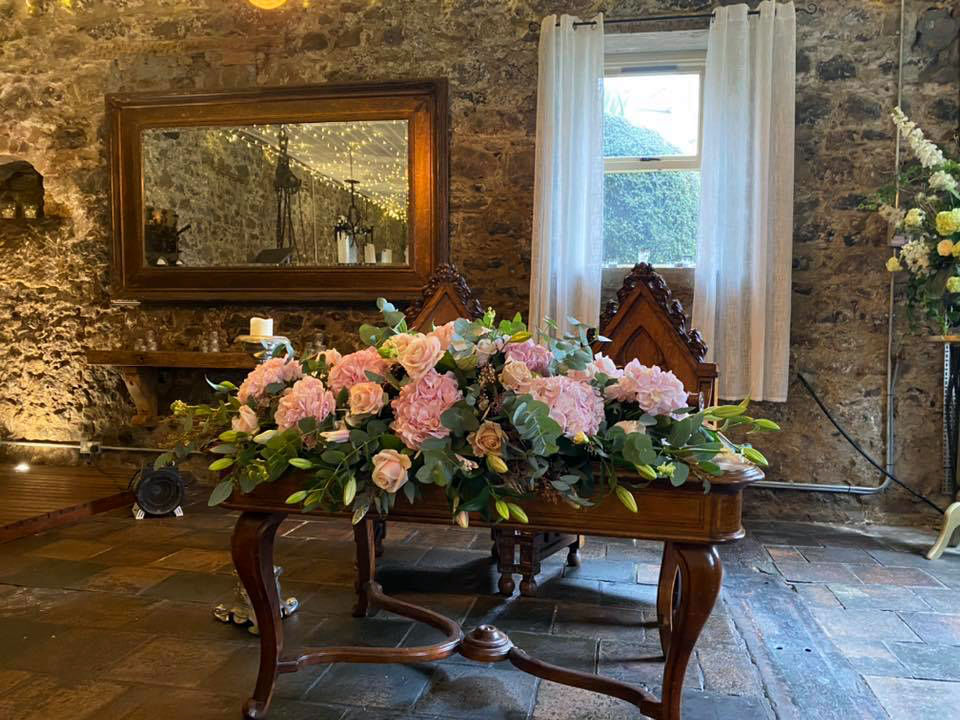 We like it big - Oversized Bouquets
For those who like to amp up the glamour, oversized bouquets are the trend for you. Think maximum bloomage, plenty of variety and trailing greenery. Wedding florists like Floral Couture by David McConkey will discuss the shape of your dress to make sure it compliments it in every way. Bear in mind the weight of an oversized bouquet, you don't want it to distract from you walking down the aisle.
Hoop Bouquets
On the other side of the spectrum with a simpler approach we have our last two Spring 2020 Wedding Flower Trends. Hoop bouquets are the first, these are a step away from your classic wedding bouquet and came on the scene in 2019.
Think a simple metal or wooden ring with a few choice blooms and greenery entwined, they are great for bridesmaids and are easier to carry, plus large scale versions make great flower feature.
Single Stems
Finally, the most simple wedding flowers of all - single stems. We see this as being a big trend for Spring 2020. These have a few variations, from a single flower bouquet (usually a large flower) to vertical flower installations of the same type of flower or greenery. Whichever way you decide, this classic and elegant look makes sure all the focus is on you.
Well that is it for now, our Spring 2020 Wedding Flower Trends are complete, let us know on social media which are your favourites!
Blog provided by Melissa from Lost in the Words.
Back